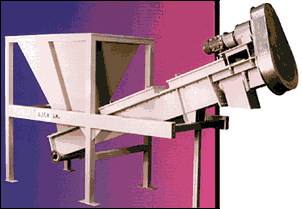 SINGHASINI Screw Elevators are widely used in all industries for handling of bulk solids . For an efficient operation the design has to be matched for the specific duty and characteristics of the bulk material to be handled . Particular care is required with infeed arrangements for optimum performance . All our elevators are individually designed and manufactured to secure the best results for each application.
STANDARD SPECIFICATION :
Inclination upto 90° can be accomodated.
Gravity feed options are available. 
OPTIONAL  EXTRAS :
Clean out doors.
Alternative material of construction and finish.
Drive arrangement to suit individual requirements.
Split casings for easy cleaning.
Chute of hopper style inlets.
Mobile or fixed units.
Dust extraction hoods.
Jacketed construction suitable for steam , oil or water.
Screw Elevators are tailor made and sizes depend on individual requirement, should you require any information please feel free to get in touch with us.